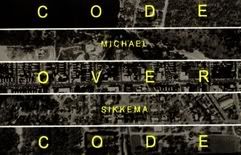 "'That music // could have numbers.' Yes, it can and does. Music, colors, body parts, earth, air, fire and water, CODE OVER CODE. You think oh it's a few lines on a page and then it turns out to be a whole rhythmic life, then another life, or a part, of an elemental past, present and future you want to read, 'because division is how one gets here.' Michael Sikkema is a sophisticated and straightforward poet." --Norma Cole

"In the spirng of 1971, the

American poet Lew Welch walked out of the mountain cabin he'd borrowed and never came back, his body presumably dissolved into the frightening California forest he so loved and feared.

Michael Sikkema takes up Welch's struggle, the drive for a permanent home, and rings changes on his forebear's remarkable prosody in the new sequence Code Over Code.

California doesn't fit everyone, and COC

is one man's chart of discovering ways to push through, ways to surrender.

Inside this voyage, a return to the circus of childhood, its lonesome night light.

Radar blips send messages; paper clips do too.

It's a book of questions, if only one question mark.

'Is there one truly human act left?'

I take this to mean, is there an act untouched by the grand natural surround?

'One is oversized/ or one is under.'

Everything is binary, thus incomplete, in the teeming world we have made as bad citizens.

'Just outside, two quail feathers against gold weeds.'" --Kevin Killian

UPDATE: 10.21.2006 Michael Sikkema's

Code Over Code

is no longer available.